Animal print is very difficult for the majority of women to wear and still look respectable. For some reason women like to make the wrong choices when it comes to animal print, especially leopard print. Here are some examples of how you can wear it and look indescribably trashy:
Leopard print on tight pants has never been a good idea. 80's hair metal bands wore it because they wanted to look trashy. If you want to look like you just rolled out of a dirty dive somewhere downtown and you're absolutely fine with a random dirt-bag slapping your butt, then go right ahead and try this.
I'm not quite sure what Jessica was thinking when she put this on, but whatever it was was wrong.
Is commentary even really necessary with this one?
But thankfully there are many other types of clothes out there besides matching shirt and pants outfits, dresses, and spandex pants. You could try a snow leopard print scarf over a black trench, or some tiger print gloves with a bright red peacock. Or be daring and pull a Kate Moss:
Could you pull this off at work? If the majority of your outfit is black, yes. If you wear this with tasteful accessories, yes.
This slip can be worn under anything, and you can show a little of it or you can hide it completely so that only you know it's there. But remember:
this is not a shirt.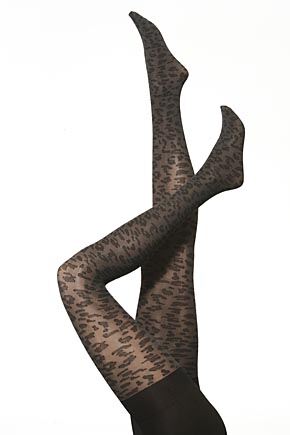 I love the idea of wearing dark leopard print pantyhose under pencil skirts, or a long silk skirt. No one would notice it's leopard print unless the light hit it right, and then it wouldn't be trashy, it would be beautifully alluring and glamorous.
Don't be an extremest with this trend. Too much or none at all is bad bad bad. You want to play with this and have fun with animal print without going overboard, not miss out on all the fun.